A baked bread roll with a white sauce chicken filling. The garlic butter which is generously brushed on the bread roulade gives an amazing buttery, garlic bread taste to it.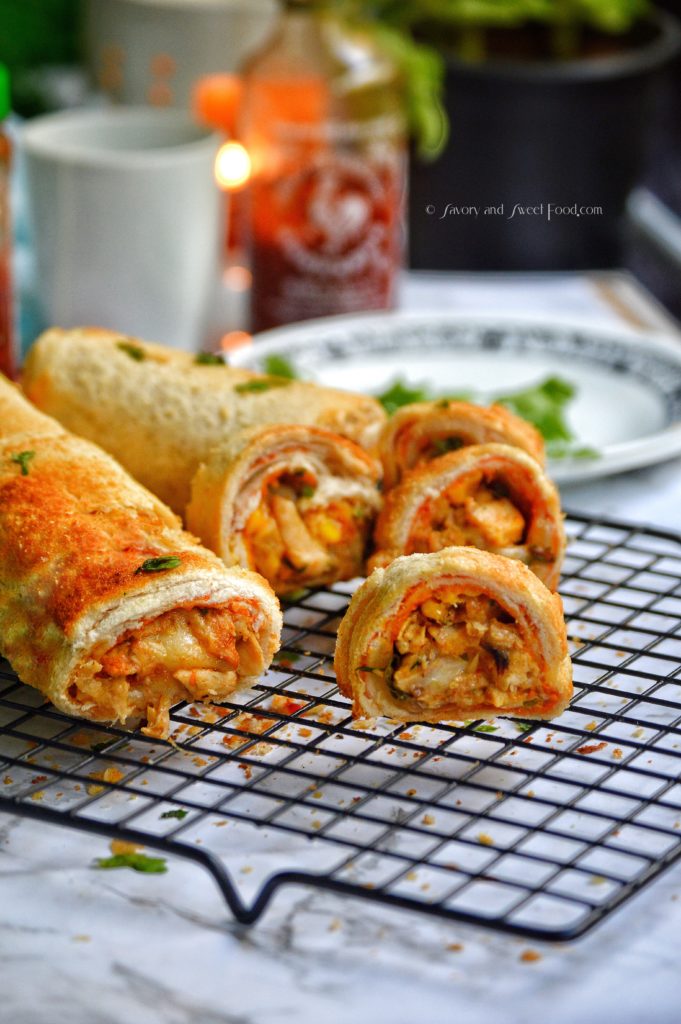 Ramadan 2020 is almost here. But we have to undergo enforced separation at a time when socializing is encouraged. This holiest month is a time when family gatherings, charity, reflection and prayers are given utmost importance. The world is going to face a Ramadan like never before because of the Corona virus pandemic. 🙁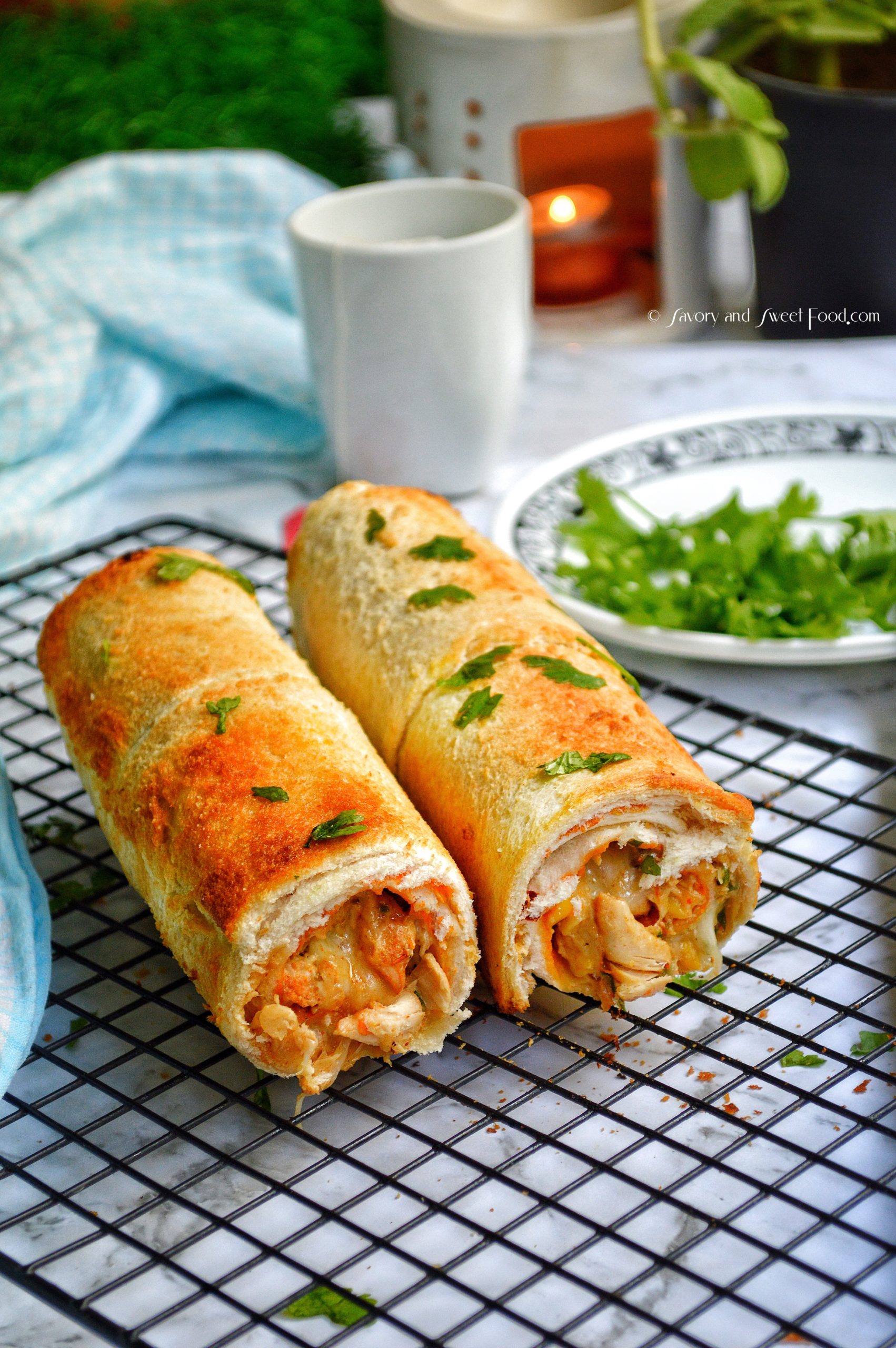 However, we must look to the positive aspects during this unprecedented time and turn this into an opportunity for family bonding and spiritual growth. Let's utilize this time and make maximum good use of it.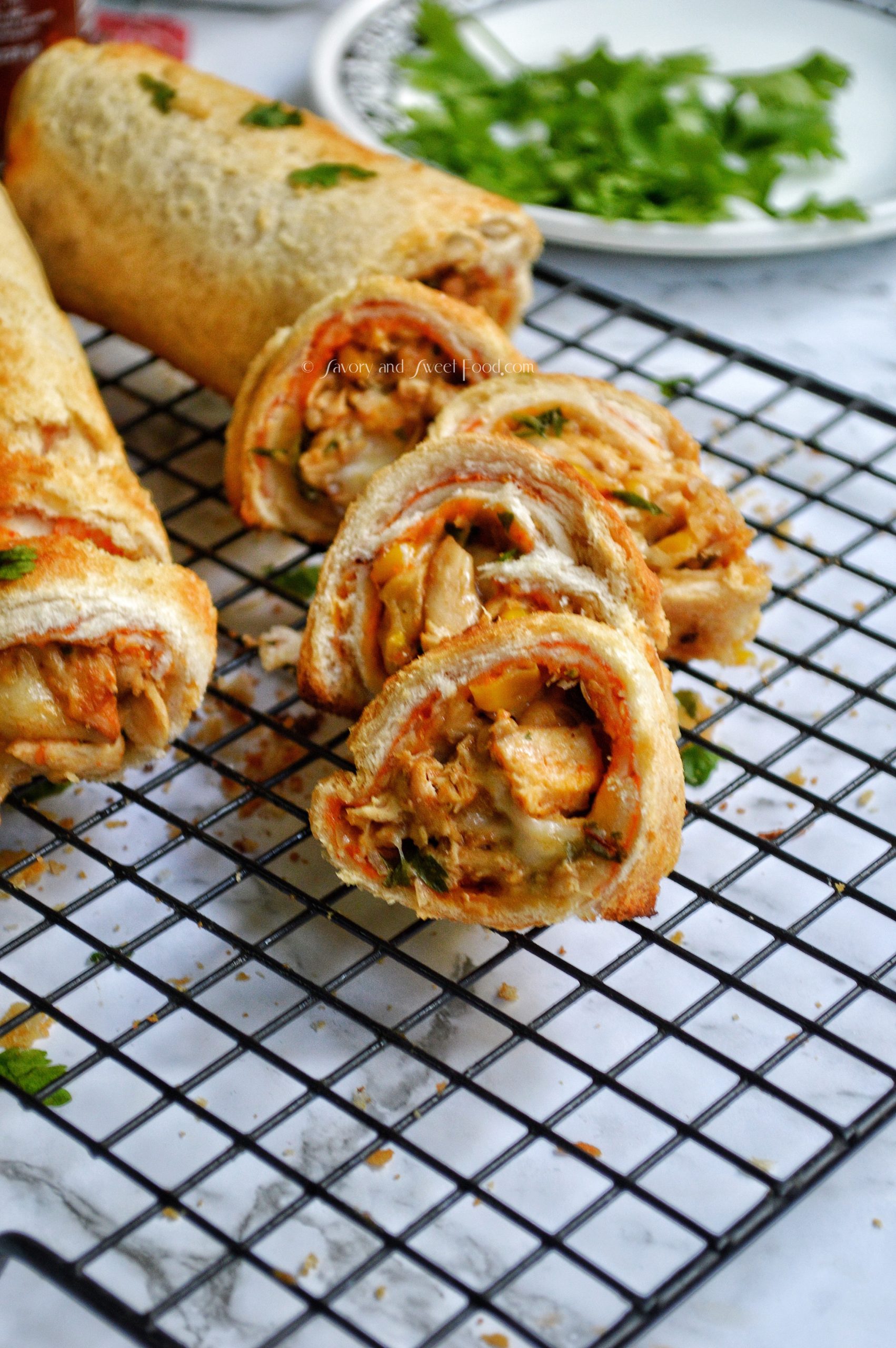 I am starting my Ramadan series with this Chicken Bread Roulade. It is a scrumptious savory snack fit for iftar. The best part is that it can be assembled and stored in the refrigerator. You just have to take it out of the fridge before one hour and bake it. If you don't have an oven, you can toast it in a frying pan with lots of butter. In that case, you may want to cut the bread roll into half to fit the frying pan. Btw, follow me on Instagram, as I will be active there inshaa Allah if all is well. I'm planning to post short videos of the dishes which I post here from now on, which I'll save to highlights.
INGREDIENTS:
For the filling:
• 200 grams boneless chicken cut in small pieces (marinate with 1/2 tsp black pepper powder, 1 tsp cajun spice/paprika and salt)
• 2 medium onion chopped
• 1 1/2 tsp ginger garlic paste
• 1/3 cup sweet corn
• 4 green chillies
• a pinch oregano
• black pepper
• salt to taste
• vegetable oil
For the white sauce:
• 1/2 tsp all purpose flour
• 1 tsp butter
• 1/2 cup milk
• 2 kiri cheese cubes (2 tbsp cream cheese)
• black pepper to taste
• 1/4 tsp cajun spice (optional)
• Red chilli flakes
• salt to taste
For garlic butter:
• 1/4 cup softened butter
• 1 clove garlic chopped (optional)
• Parsley (optional)
• (or use readymade garlic butter)
For the bread roulade:
• 12 slices bread (sides trimmed well)
• A paste made with 1 tsp flour and few tsps of water
• Chilli garlic sauce/ sriracha sauce
• mozzarella cheese
• parsley
• jalapeños (optional)
• olives
• chicken filling
• white sauce
• garlic butter
NOTES:
If you don't have an oven, you can toast it in a frying pan with lots of butter. In that case, you may want to cut the bread roll into half to fit the frying pan.
DIRECTIONS:
To make filling:
1. Shallow fry marinated chicken in a little bit of oil and keep it aside. Cut it further into smaller pieces if needed.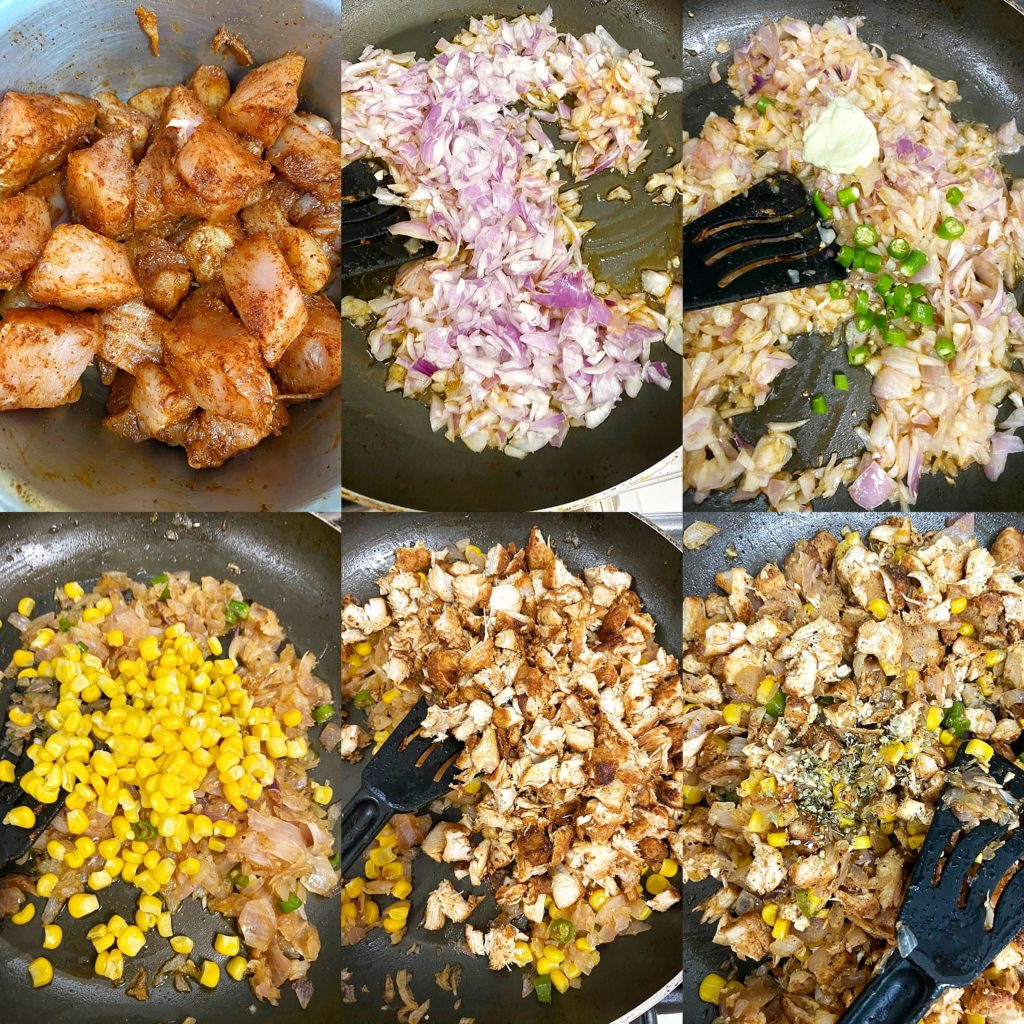 2. In the same pan, add onions and green chillies. Saute until onions turn soft.
3. Add ginger garlic paste.
4. Add sweet corn and mix well.
5. Add fried chicken into it. Mix.
6. Add oregano, black pepper powder, red chilli flakes and salt if required.
7. Filling is ready.
To make white sauce:
1. In a pan add butter.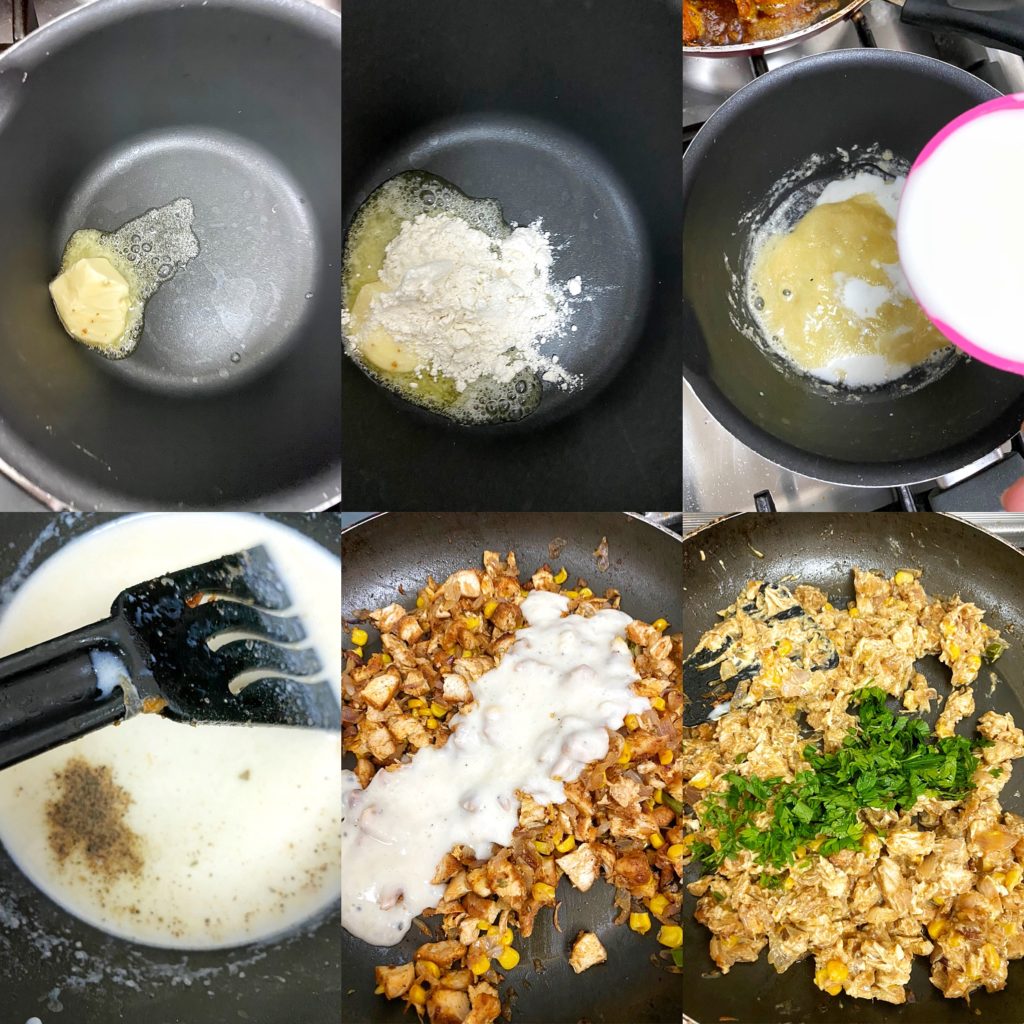 2. When it melts add in the flour on low heat and stir immediately. Cook for few seconds till you get a nutty smell.
3. Add cream cheese. Let it melt.
4. Pour the milk little by little stirring continuously to prevent formation of lumps.
5. Add black pepper, salt and cajun.
6. Let the sauce thicken.
7. Turn off the flame.
8. Pour the sauce into the filling and mix until everything is combined.
9. Add chopped parsley.
To assemble:
1. Place the bread with sides overlapping as shown in the picture. Spread the flour paste on all the edges where two slices are overlapping so that they stick well to each other.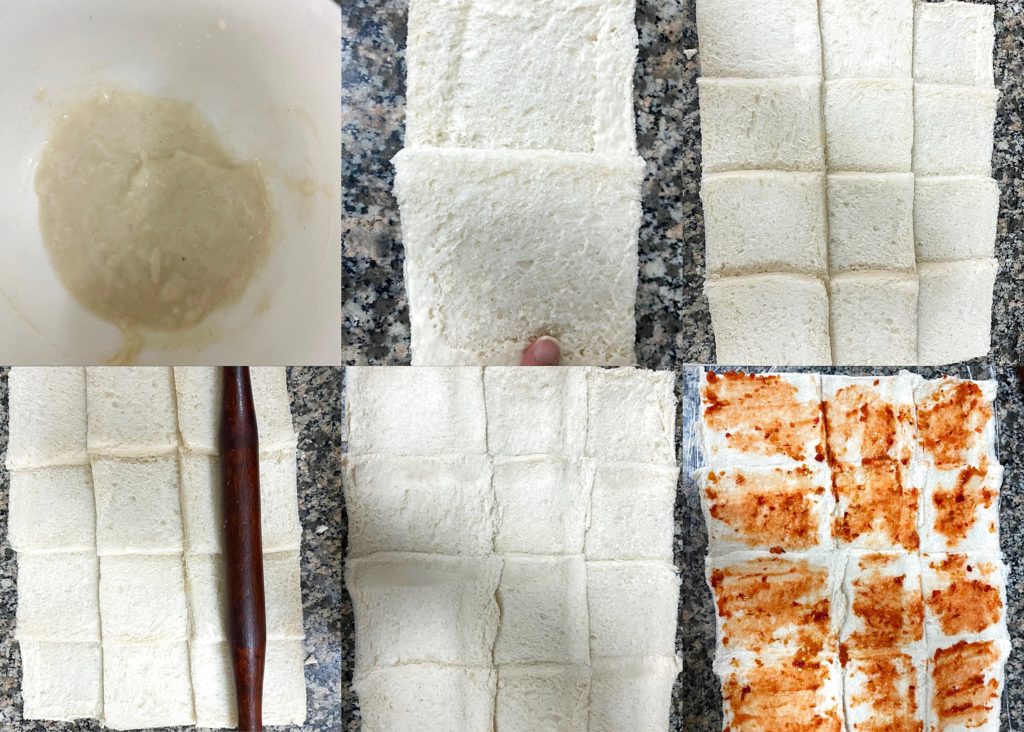 2. With a rolling pin, roll the bread very well until all the slices are flat and thin. Keep rolling until the egdes of all bread slices stick to each other well. I rolled it over and over again about 5-6 times. The bread should be very thin like a paper, especially the edges of the bread.
3. Place the rolled bread on a big piece of cling film, so that further rolling would be easier.
4. Add chilli garlic spread/ sriracha sauce all over the bread.
5. Then spread the filling and mozzarella cheese on the long side till the middle part of the bread
6. Then start rolling the bread tightly into a log, try to roll it with the help of the cling film.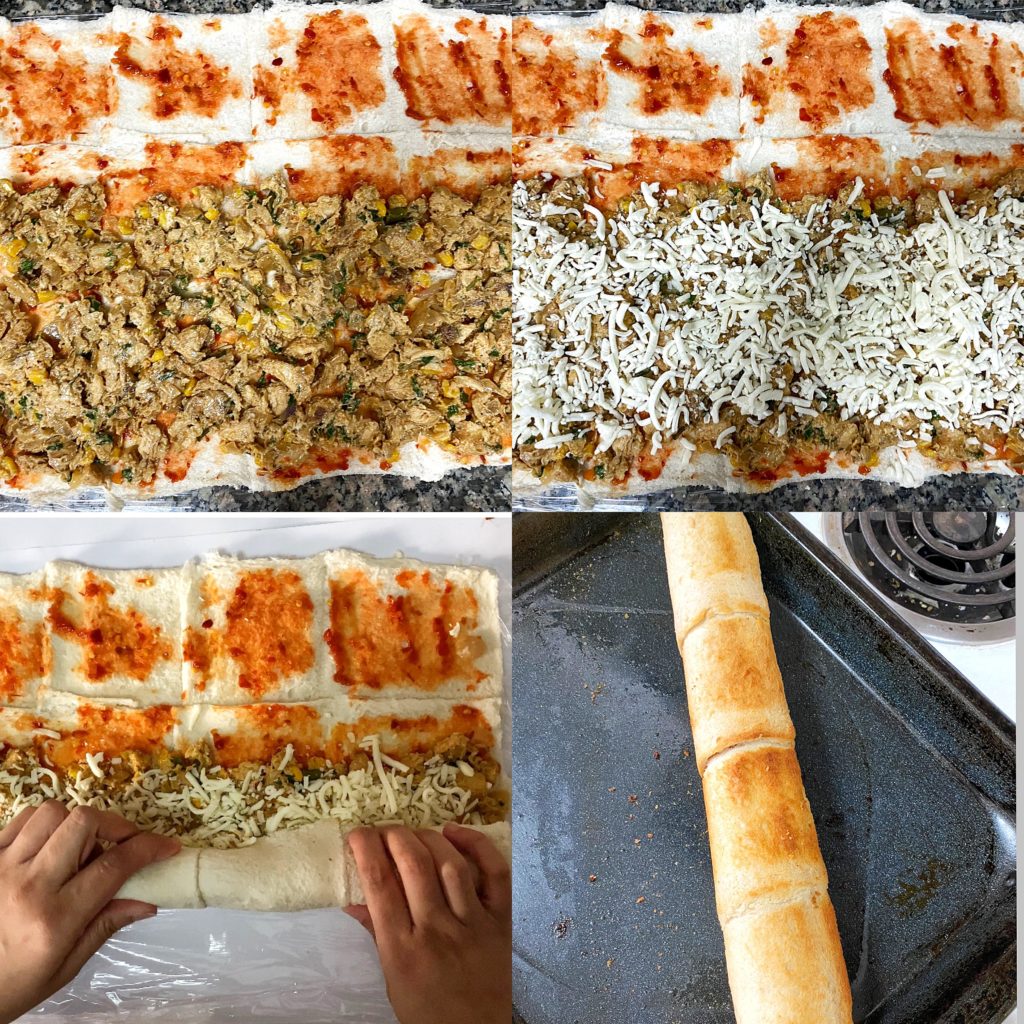 7. After rolling cover with the same cling film tightly and refrigerate for 1/2 an hour and turn on the broil or top flame of the oven.
8. Spread the garlic butter all over the bread generously.
9. Place it in the oven and let it brown on both sides. Rotate the bread roll half way through so that both sides get crisp and golden brown in color. You can brush more butter while the bread roulade is in the oven. Once it is done, take it out and give a last brush of butter.
10. Cut it into thin slices with a bread knife and serve immediately.