Kunafa coated flaky puff pastry filled with a ricotta cream mixture on which fragrant sugar syrup is poured generously. Perfect dessert for Eid or just anytime of the year.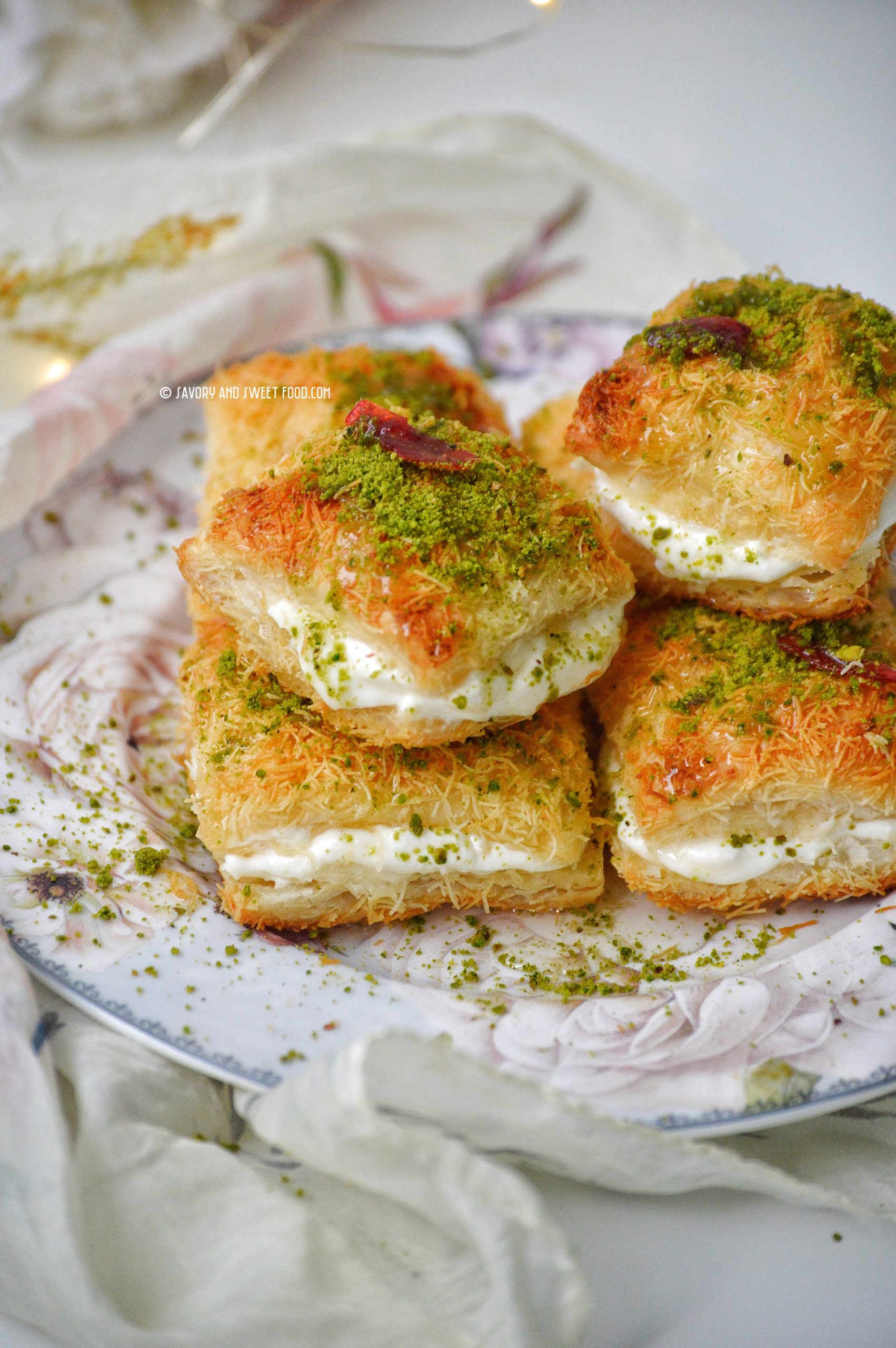 The beautiful month of Ramadan is almost coming to an end 🙁 and I'm sure you guys will be in search for Eid dessert recipes. Thank you for the tremendous response you all gave for my Ramadan posts.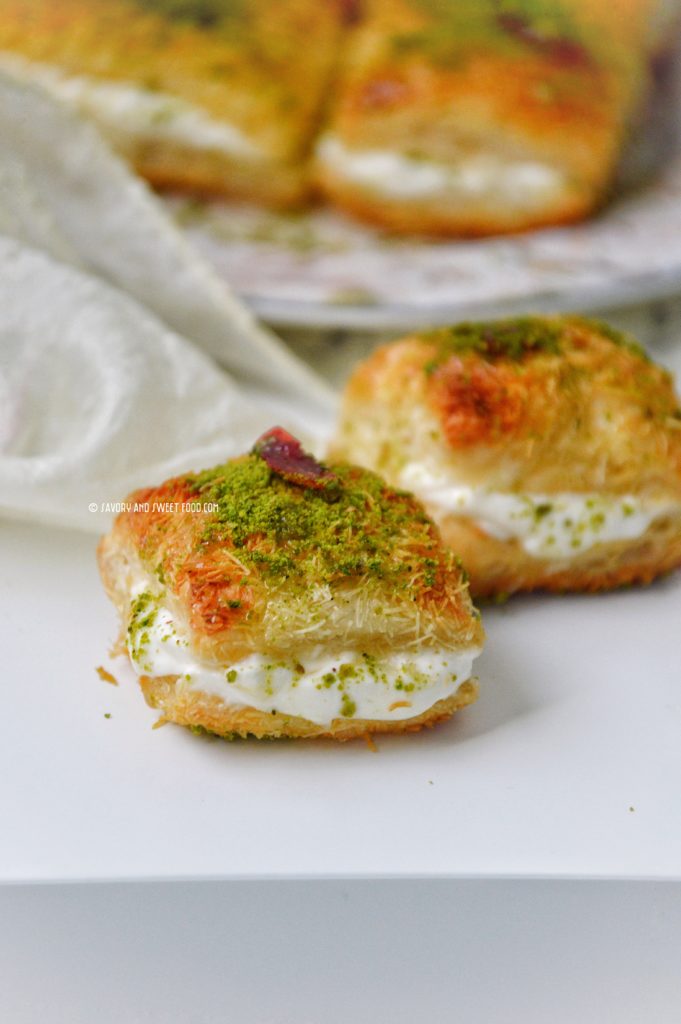 I am planning to post three dessert recipes before Eid inshaa Allah, if I get the time, these dainty Kunafa Cream Puffs is one of it.
I got inspired to make this mini Kunafa Puffs after I saw something similar in Instagram on an Arab lady's page. I don't remember the name of the page or the recipe exactly as I saw it in explore. I tried finding her page, but unfortunately I couldn't. I really liked the concept of coating kunafa on puff pastry and I used that idea here to make these Kunafa Cream Puffs. If I am not wrong, she had used a filling made with cheese and whipping cream powder, not sure though.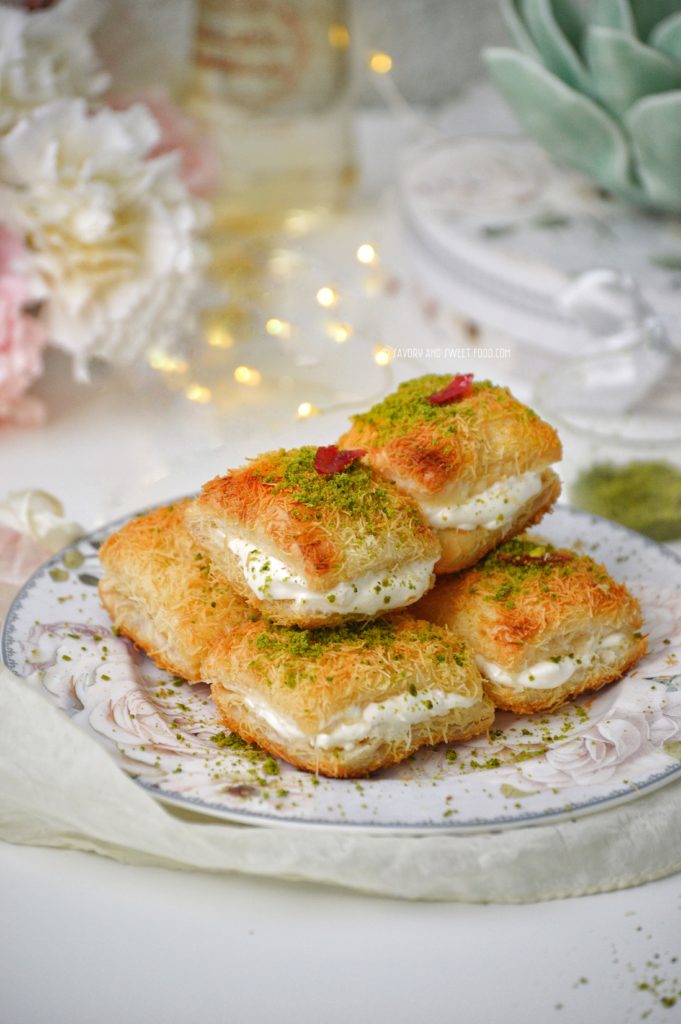 This is so easy to assemble and it tastes out of this world good. At first I tried with plain thick cream filling, but I wanted a thicker and denser cream, something like the traditional Arabic Ashtta. So I combined ricotta with it and was perfect. Loved it so so much.
If you do not have access to kunafa, you can just omit it and fill the puff pastry with cream and pour syrup. It will taste just as good. Hope you will give this a try and let me know how it turned out for you. I would love to know.
INGREDIENTS:
100g kunafa
50g butter melted
5 puff squares
100g thick cream
100g ricotta
1 tsp rose water
1/2 tsp orange blossom water
1/4 cup milk
Sugar syrup
Powdered pistachios
NOTES:
If you don't get ricotta, you can use thick cream alone. But ricotta gives a denser texture to the cream.
Instead of ricotta, mascarpone can be used too.
DIRECTIONS: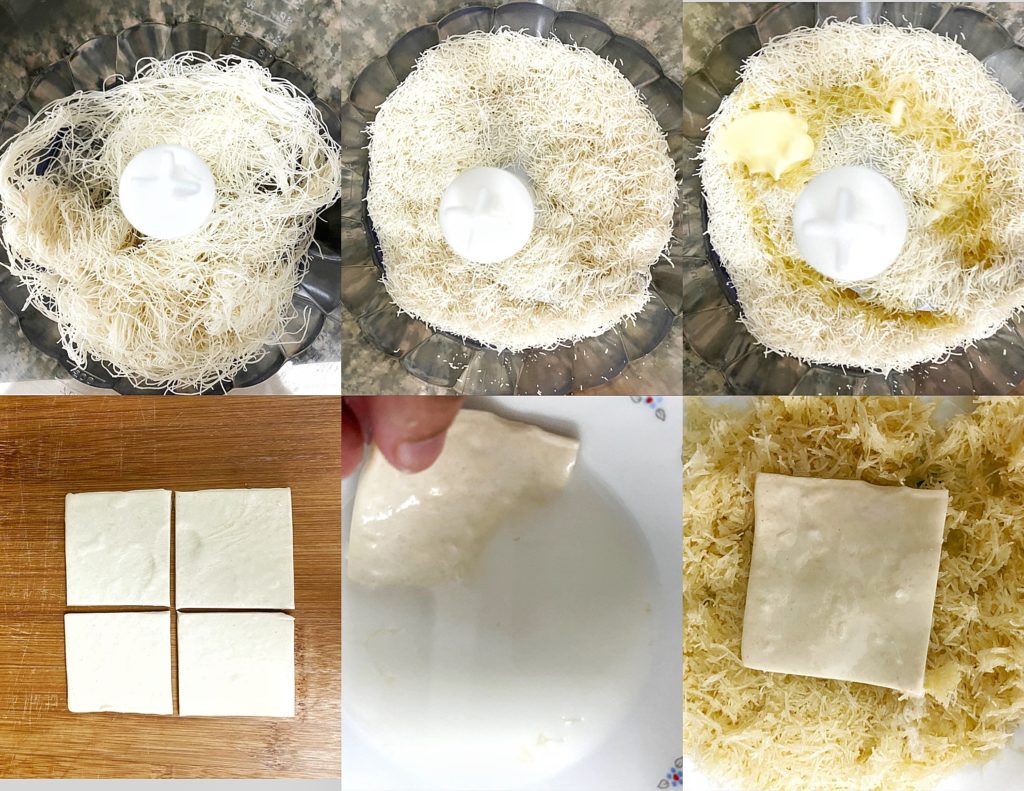 Put the kunafa in a food processor and chop it into small pieces.
Pour melted butter into the kunafa and process it once more till everything gets combined and the butter gets coated well on the kunafa.
Place this in a bowl.
Take out the puff pastry squares and cut each into 4 squares.
Dip the puff pastry cubes in the milk.
Dip it in the kunafa butter mixture. Make sure you press the kunafa onto the puff pastry well.
Do the same with all the puff pastries.
Place it on a well greased baking tray.
Bake it in a 180C preheated oven for 15 minutes or until the puff pastry puffs up and the kunafa gets golden brown in color.
Take it out of the oven and let it cool on a wire rack.
Meanwhile, make the cream filling.
For that mix together the ricotta and thick cream together. Pour few drops of rose water and orange blossom water, not too much.
Once the puff pastry cools completely, open it from one side and fill a teaspoon full of cream into each.
When serving, pour a bit of sugar syrup on the serving plate. Place the Kunafa Cream Puff on the plate. And drizzle sugar syrup all over the puff pastry. Sprinkle powdered pistachios. Serve immediately.